Wine 101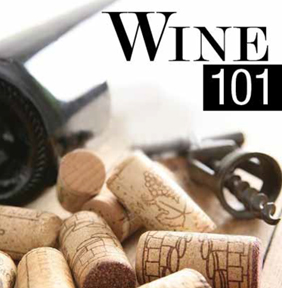 Types of Wines
REDS
CABERNET SAUVIGNON
Intense blackberry and berry flavors are augmented by spicy, cedary, cigar box aromas and at times, herbal scents of lead pencil, tobacco, mint or bell pepper. Always a medium- to full-bodied dry wine with noticeable tannin, it is often aged in oak barrels to soften its attack and enhance its palate.
MERLOT
Aromas and flavors consist of blackberries, black cherries, crème de cassis, sometimes with notes of chocolate or mocha. Merlot ripens earlier than Cabernet and has a softer tannin structure. Always a medium- to full-bodied dry wine, like Cabernet, it too is often aged in oak barrel for added dimension.
PINOT NOIR
Pinot Noir can be silky yet deceptively powerful, with perfumes of strawberry and red cherry fruit, cedar, spice, cola and clove. It can be delightfully earthy with seductive mushroom and forest floor notes. A finicky grape to grow due to its thin skin, it needs ample warmth to fully ripen.
ZINFANDEL
Rich, dark, spicy wines with the scents and flavors of black raspberries, often with jammy, briary notes of plum and raisin. It takes well to limited oak contact, which adds nuances of cedar, vanilla and tobacco. Zinfandel can also be made into a sweet, late harvest style fortified Port.
SHIRAZ/SYRAH
Syrah typically offers purple plum fruit, with tell-tale black pepper, smoked meat and loamy soil nuances, and is a deeply colored, full-bodied wines with firm tannins. It is this smoky, earthy quality that pairs so well with game and grilled meats.
OTHER REDS
Some blends are not easily classified. Grapes are chosen for balance, structure, flavor and aromas and many – sometimes more than a dozen – are used to create the perfect wine. Food-friendly, usually dry, perfect when "what's for dinner?" is "let's grill!"
WHITES
WHITE ZINFANDEL
White Zinfandel is an off-dry to semi-sweet rosé wine made from Zinfandel grapes. Made by barely allowing the red wine skins to touch the juice (this is what makes it pink), the resulting wine is much softer and lighter in style than the full-bodied red Zinfandel, and is often a favorite with new wine drinkers. Drink on its own or with picnic foods. Made for drinking young.
CHARDONNAY
Chardonnay is often described as buttery, nutty, creamy or toasty and can take on flavors that include apple, pear, tropical fruits, butterscotch, honey or lemon. Chardonnay goes exceptionally well with rich seafood (particularly scallops and lobster), pasta with cream sauces and seafood salads.
SAUVIGNON BLANC
Also known as Fume Blanc, it is California's second most popular white wine grape. The wine is crisp with grassy, green pepper and herbal flavors and should generally be consumed while young. Pairs well with chicken, fish, shellfish, soups, pasta with red sauces, sushi and light salads.
PINOT GRIGIO/PINOT GRIS
A light, dry white with moderate acidity and light fruit aromas and flavors. Look for a pale straw color; floral, peach, and pear flavors and aromas (some citrus). Light to medium in body, Pinot Grigio/Pinot Gris (same grape) pairs well with salads, light seafood/fish dishes, and light appetizers.
RIESLING
Considered one of the great wine grapes of the world, Rieslings are complex and delicate, and can be made from dry to very sweet. These light, fruity wines often exhibit apricot and peach flavors and a flowery bouquet. Great for picnics, pairing well with chicken, pork, fish, salads and lighter foods.
Wine Pairing
RED WITH FOOD
The stand-by rule of thumb is red meats, red wine. Most red table wines have the weight to stand up to heartier dishes: burgers, barbecue, steaks, and stews. Drier wines like Cabernet and Merlot will be better with bigger meats: rib roasts, steaks, and lamb. Having pasta with red sauce? Pizza? Chianti is made for tomato dishes. If you prefer a less tannic, fruitier taste, try a non-varietal such as an American burgundy, especially when you're grilling.
WHITES WITH FOOD
Here, the general rule is white wine, white meat. A blush/rosé wine works well with dishes like pork roast or ham, though, and it's a great picnic wine with your roast chicken or salmon. Other whites – Chardonnay, or a non-varietal white like American Chablis or Rhine – pair up nicely with seafood, pasta with white sauce, or chicken dishes.